---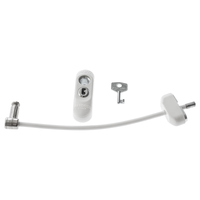 Sale
The window restrictor has been designed to enable you to open your window up to 10cm to allow air circulation through your home; however, should your child fall against the window they should not fall out.
Unlike some window restrictors currently on the market, the Baby and Child Window-Safe™ Restrictor has been constructed so that the whole device can withstand forces over 100kg, as opposed to just the cable. 
The restrictor can be fitted to any window or door type easily, it has a 20cm cable, and so during fitting you can adjust the positioning to achieve your desired window opening. A key is also provided for times when you may need to open the window fully.
Make your windows child safe with the MAX6MUM SECURITY® Baby and Child Window-Safe™ Restrictor
The Max6mum window restrictor has been designed to enable you to open your window to approximately 10cm to allow air circulation through your home
Protects your child from falling out the window
Fits to any window or door
Manufactured from steel with a plastic cover
Whole mechanism can withstand a force of over 100kg, greater than 4 times the safety requirements under the Strata Schemes Management Act 2015 (NSW)
Can be used of fire escape windows providing the key is in easy reach
Comes with fitting instructions
Lock plate: 68 x 22mm
Cable plate: 42 x 17mm
1 year mechanical guarantee
Manufactured from mild steel
Plated coating for corrosion resistance to the base metal
Plastic covers the base and keep to protect the metal
Plastic covering on wire protects from corrosion