---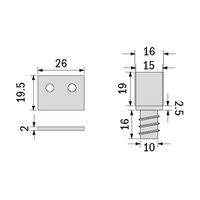 The Secure Sash Window Stop is part of our popular range of restrictors for sash windows.
Two stops fit either side of the top sash which restrict the window from opening more than the designed gap.  This and gives peace of mind, when open for ventilation, that intruders cannot access the window and also that children cannot fall out.
The pack includes everything you need to secure one sash window
Can be fitted at 12.5cms or less, making windows comply with the NSW Fair Trading Strata Regulations
Heavy-duty security and restrictor stop
Pack includes 2 stops and two strike plates, one key and screws - enough for one window
Requires a key to open and close, making it childproof as long as child does not have access to key
Easy fit (see below)
INSTALLATION INSTRUCTIONS:
Make sure that the window is in the locked position. Mark on the centre of the vertical stile of the top sash, approximately 10mm from the top face of the meeting rail, and drill a 10mm pilot hole. 

Fit the screw plug into the hole and screw in with a 6mm hex key. It can be recessed into the surface if required. Repeat for the second side. 

Screw the "Stopper" into the screw plug with the key and mark the position of the strike plate on the top face of the meeting rail on the bottom sash. 

Fit the strike plate, making sure the centre is directly under the Secure Stop. Repeat for the second side. 

If a ventilation gap is required, fit the second Secure Stop approximately 100mm above the first, using the above method. Repeat for the second side.