---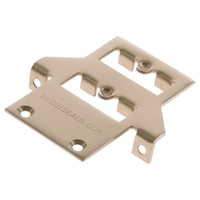 The Modern narrow Locking Fastener is part of our range of modern and traditional Sash Furniture. Manufactured from steel and finished to a high quality, this is ideal as a modern and stylish fastener. The design of the "circular latch" on the fastener helps pull the keep towards the meeting rail, enhancing the seal at this point to as little as 1mm. Suitable for Double-glazed and most Triple glazed windows. 
Manufactured from Mild Steel.
Available in 2 different finishes: PVD and Polished Chrome
There are 2 positions for the lock. The bottom position locks the meeting rails together as standard.
The second position above, locks the window leaving a small gap at the bottom to act as a night vent
The night vent position is a strong lock, preventing the window from being opened.
Countersunk screw holes for a flush fit.
Demonstrates good strength, hardness and durability in this application
Can be used with double-glazed and most Triple glazed windows.
PVD has excellent corrosion resistance and is very hard wearing.
For use with the Modern Locking Fastener – purchased as an addition.
Used predominantly with Timber windows.
Ideal for the "modern look", using spring balances.
Suitable for use on PVC style sash windows and the "Tilt and Turn" windows.